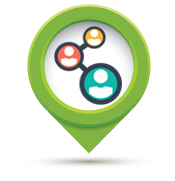 Healthcare Models and TCIM approaches for Health Strengthening
This section brings Health Proposals, Strategies, and Models aimed to strengthen and promote health from the perspective of Traditional, Complementary, and Integrative Medicine, and related Therapies and Practices (TCIM).
Health, as for the WHO definition, is a state of complete physical, mental, and social well-being and not merely the absence of disease or infirmity. For this reason, it is important to take into consideration the integrative approach adopted by TCIM to strengthen health (1).
Most medical systems and therapies of the TCIM group aim at guiding individuals, families, and communities to  develop habits that can help them strengthen, keep their health and prevent diseases. Some of the different strategies suggested include, in general, healthier eating habits, practicing physical exercise, as means to foster positive change in their family, at work, and a social live context that can lead to emotional and mental well-being (2)(3)(4).
All these strategies are associated to paradigms that are not related to the positivist understanding of the field.
To mention some examples that will be expanded in this section, the Traditional Chinese Medicine (TCM) proposes a diet based on the characteristics of each food, such as its quality of being cold/hot, as well as flavor and color. Additionally, it will propose a "diet" to strengthen patients' health and prevent diseases according to each individual and their body complexion, also including the time and season of the year. The exercises suggested by TCM are Taiichi and Qi-Gong, meditation, appropriate management of emotions and contemplatives practices the cycles of nature, working in tune with the environment to guarantee emotional and mental well-being (5)(6).
Studies and research show the effectiveness of some of these strategies when it comes to strengthening, promoting health and preventing diseases, as well as in the management of the different pathologies (7)(8).
Sometimes, when providing healthcare, both in western medical models and in complementary therapeutic clinical models, care is directed to healing the diseases patients consults for, which can be circumstantial. That is why it is necessary to remember the application/use of strategies aimed at strengthening health and well-being (9)(10).
It is important to highlight the TCIM proposals to strengthen health and create health models that can approach the intercultural perspective and facilitate the integration of these strategies to guarantee the development of full health programs focused on people, families and communities, which are at the same time inclusive for all (2).
TCIM models and strategies to strengthen health include:
Healthy eating models
Physical activity models
Models to strengthen emotional and mental state